Educational Farm Malerba Castagne
The Farm Malerba Castagne develops tied up cultural activity to the tradition castanicola montellese, from years it is busy in to make to know through collaborations and projects with the scholastic institutes the thin ecological equilibrium that the woods characterize to castagneto hocking itself in before person to safeguard it.
For this she has been enrolled in the regional bulletin-board of the Didactic Farms. How didactic farm "the firm Weed" she would want to answer to a cultural sketch of public interest, that creates bonds in the territory among the traditional productive system and the consumers transmitting particularly directly her own experience to the new generations. The reception in the company of the schools also with didactic programs in the within of the scholastic and/or extrascholastic activities represents a fundamental moment of our job. This also in order to train the public for a more conscious consumption and an active behaviour in the protection of the environment in this sense it is possible to participate in the harvesting of chestnuts and to attend to some phases of their processing and to some agronomic practices.
Our commitment is to safeguard the "chestnut culture" in Irpinia, that is, to be able to transmit to the future generation our knowledge and love for the woods and the mountains, not to lose a whole patrimony that revolved around the chestnut tree and that for centuries has characterized not only our economy, but the very life of the populations who lived on our Apennines. This is why, still today, the old "gratali" are active at the farm, the buildings used to dry chestnuts in order to obtain dried chestnuts and we continue to propagate the "palummina" cultivar (that is the precious chestnut of montella) with the ancient technique of grafting "a zufolo" now almost abandoned as an agronomic practice.
Visit to the museum of chestnut growing – tour in the company collection of the time It is possible to agree with the teaching staff special educational paths peculiar to some periods of the year.
It is possible to provide a full breakfast with chestnut products and tasting of the farm's products; water and soft drinks will also be provided. It should always be reported, by the group manager, before the visit, the possible participation of disabled people, allergic people, or with special ethical needs-cultural, in order to put in place all useful devices, in particular in case of administration of food to make the visit a pleasant and usable moment for all.
Azienda Agricola Malerba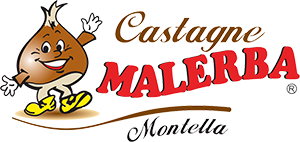 Sede Legale
Via Verteglia, 104
83048 Montella (AV)
Sede Operativa
S.P. 43 Cassano I. – S. Francesco, 22
83048 Montella (AV)