History of the Farm Malerba Castagne
The history of farm Malerba Castagne
It was in 1875 when our foreman Catello Malerba, already from Garibaldi, returned from Greece, where he had worked in the construction of the Corinthian canal, decided to invest his remuneration in the purchase of a chestnut grove.
The Malerba family, at the end of the 70's, first in the mountains, next to the now centuries-old chestnut production, presented a range of traditional processed products of high quality including the renowned chestnuts of the Prete mountain chestnuts "chestnuts 'nfornate"
Even today the rigorous respect of ancient recipe preparation, the meticulous search for the best ingredients, the wise dosage of these and, last but not least, the passion for their work make "Malerba products" of the authentic specialties.
Over the years the company has invested heavily in research and experimentation arriving today boasting a wide range of chestnut products.
The preservation of tradition and technological innovation make it a point of reference for the chestnut industry.
Always engaged in the promotion of the chestnut of Montella PGI, since 05/11/99 is member of the Board of Directors of the Consortium for the protection and promotion of the chestnut of Montella PGI.
Azienda Agricola Malerba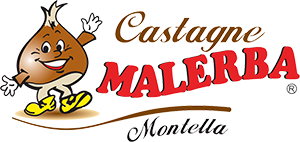 Sede Legale
Via Verteglia, 104
83048 Montella (AV)
Sede Operativa
S.P. 43 Cassano I. – S. Francesco, 22
83048 Montella (AV)