Description of the Chestnut
Chestnut one of the longest-living plants
The European chestnut (castanea sativa Mill.) belongs to the family of Fagaceae, including plants with arboreal development, monoecious (that is, with male and female flowers carried on the same individual even if separated).
As in all pheasants, the chestnut has male inflorescences with catkins, up to 15 cm long, composed of very small yellow flowers.
The female flowers are united to two-three at the base of the amentos, surrounded by an involucre (the dome) which will then become the hedgehog, thorny protection for the fruits.
While for the oaks and the beech, other species of the family, the pollination is anemophilous – happens through the dispersion of the wind – for the chestnut it happens by means of insects, beetles and bees make chestnut honey.
Each hedgehog usually contains 3 fruits and when fully ripe it opens by freeing them.
Each fruit has variable weight and size depending on the variety; the colour may vary in the streaks, shades or streaks but is usually brown. Botany is an achenium (or on some texts "walnut"), semi-spherical or flattened. At the base there is the hilar scar, a clear elliptical "spot", corresponding to the contact zone between hedgehog and chestnut. On the contrary, there is a tip that ends with what was the esteem of the flower that is preserved also in the ripe fruit. The leaves are lanceolate, toothed, up to 15-20 cm long. The plant reaches the 30-35 m of height and over 500 years of age. There are cases of plants that have passed the millennium.
Azienda Agricola Malerba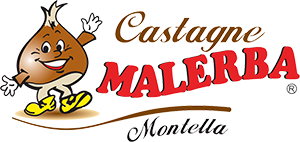 Sede Legale
Via Verteglia, 104
83048 Montella (AV)
Sede Operativa
S.P. 43 Cassano I. – S. Francesco, 22
83048 Montella (AV)