The Chestnut tree in the History
Its diffusion allows the mountain populations to have fruits to be consumed fresh or processed for consumption during the year, and firewood and building wood.
Its cultivation takes place in moulds, where the individual trees reach monumental proportions with secular specimens.
It is a forest with unique characteristics.
The intervention of the man consists above all in a drastic operation of mowing of the undergrowth, in late spring-early summer, in order to allow an easy harvest of the fruits.
The mowing of the undergrowth inevitably selects the vegetation: all the arboreal species are eliminated, and the shrub species resist only if prostrate and low, such as the thyme, the cyst, and few others.
The presence of turf, prevents soil erosion and mowing, carried out before the warmer season, prevents summer fires so chestnut trees have an important function of hydrogeological stability.
This function is also the result of the possibility to conduct the coppice chestnut tree, with shifts of 10-15 years, in the most acclaimed and therefore unstable slopes.
The cultivated plants are not completely equal to the spontaneous castanea sativa in the woods, which produces few fruits and small.
Over the centuries, numerous varieties have been selected which have led to fruits of different sizes or particular organoleptic characteristics.
Moreover, in the last century, a fearsome enemy, arrived from America where it had already exterminated toothed chestnut: the cortical cancer.
This disease is caused by the infestation of a fungus, Endothia parasitica, which causes the decay of the plant.
Asian species, from which pathological-resistant hybrids have been obtained, seem to react better to this danger.
Azienda Agricola Malerba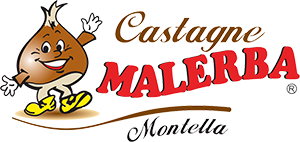 Sede Legale
Via Verteglia, 104
83048 Montella (AV)
Sede Operativa
S.P. 43 Cassano I. – S. Francesco, 22
83048 Montella (AV)