The Chestnut tree in the Literature
Ancient is the relationship of chestnuts with literature:
"no city can compete with Naples in roasting chestnuts"
Marziale (40 a.C.)
In an invitation to dinner: "If to dine in the house melancholy tightens your heart, come to me to suffer hunger….. and to end as final delicacies we will serve you of the raisin and, from the dotta Naples partorite, chestnuts to slow roasted fire"
Marziale (40 a.C.)
"You could have rested here tonight on a green bed: we have ripe fruit, good chestnuts and plenty of cheese…. and already the chimneys of the houses smoke far away and larger descend the shadows from the high mountains"
Virgilio Eglogae I
"And she went in with the wine, and with the warm chestnuts, and became one with him, and made gozzoviglia several times"
Boccaccio Decamerone p.244

Senofonte, (430 -355 a.C.) defined chestnut as the tree of bread
Herman Hesse begins his famous work Narciso e boccadoro describing the chestnut tree placed in front of the convent of Mariabronn, "a solitary son of the South", an unusual tree for Central Europe, where the story is set.
A little later in the description assigns him the attribute of exotic, to confirm that this plant comes from other latitudes, other regions but not too distant, because the chestnut tree is widespread in Mediterranean Europe and goes north to the Alps.
It is certainly one of the plants that most markedly characterize the landscape and enter the culture of the regions that surround the Mare nostrum, along with the olive tree and the vine.
But in contrast to these two, enhanced and rapidly expanding, the cultivation and the importance of the chestnut tree has been progressively declining in recent decades.
However, in many areas it is still important for the economy of mountain populations and in recent years it has been gaining interest again.
We often speak of the chestnut tree as a "bread tree" around which a real "chestnut civilization" developed.
Very numerous in Italy are the place names that remember him (Castagneto Po, near Turin;
Castagneto Carducci, in Tuscany) and many legends that see him protagonist.
Its positioning in a well defined horizon from the climate point of view allows to define such horizon "Castanetum", superimposed to the "lauretum" of the laurel (laurus nobilis) and under the "fagetum" mountain forests of beech (sylvatic beech).
Azienda Agricola Malerba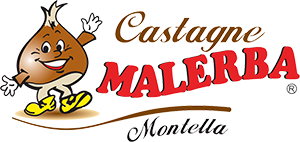 Sede Legale
Via Verteglia, 104
83048 Montella (AV)
Sede Operativa
S.P. 43 Cassano I. – S. Francesco, 22
83048 Montella (AV)